THEORY OF EARTH SYSTEM DESIGN 2016
TESD2015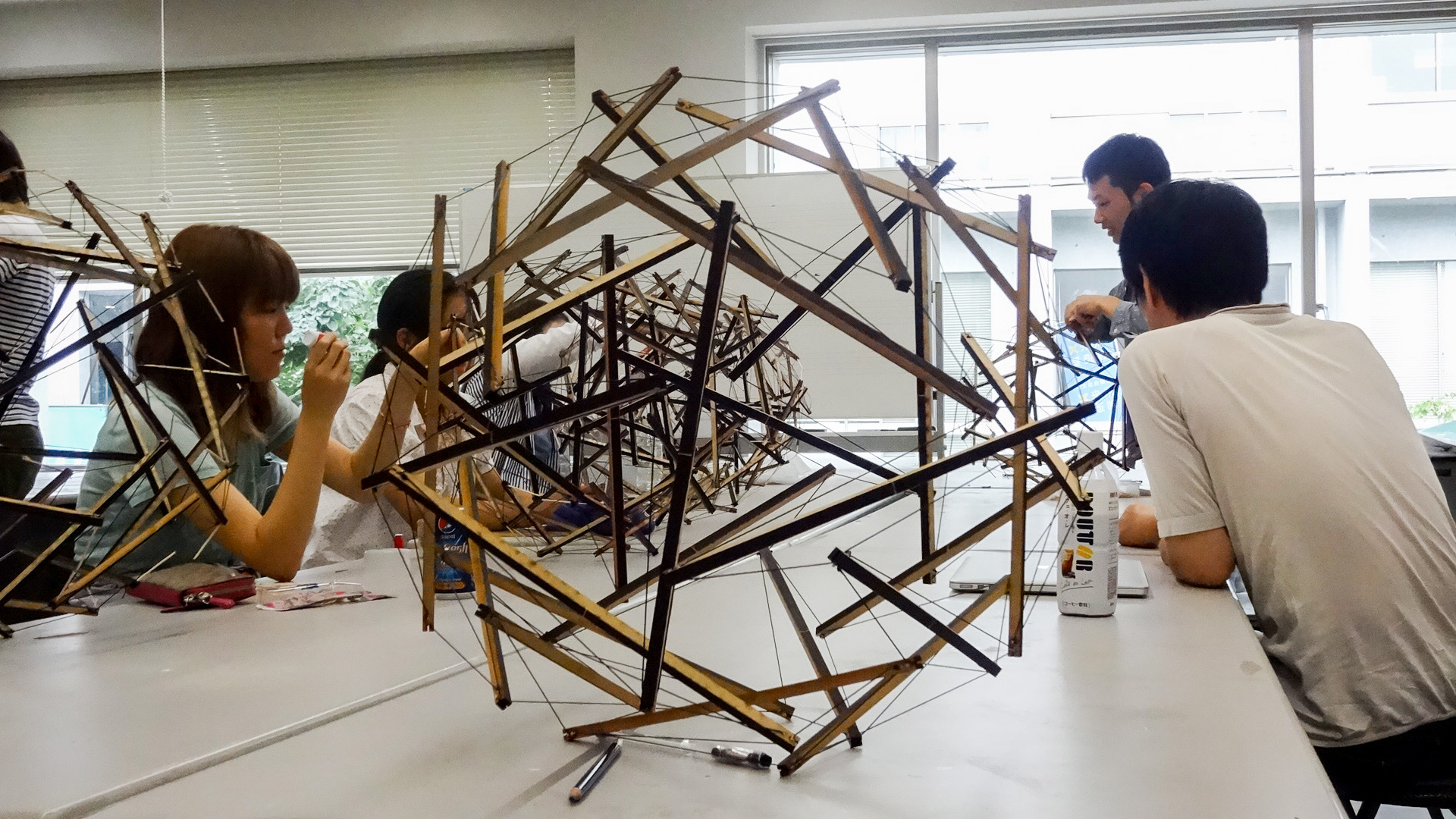 What you need to start the subject
very basic knowledge on high school mathematics, science, sociology and fine art.
This class is recommended to students who
wants to be a designer in a future
are interested in visualizing global issues
and are interested in design and engineering
Summary
The class introduces Buckminster Fuller and his inventions for solving global issues.The class is a subject between design and engineeringThe class introduces Fuller's thought on global issue too. But this class forces you to learn by practicing his design.The class demonstrates the essence of the technologies by model making.
Objectives and Teaching method
Buckminster Fuller regarded the earth as an well-designed spaceship. He have invented a series of technologies to sustain our biosphere according to his argument that how to deal with problems that may damage the spaceship's mechanism. His unique achievements lies in his design and engineering rather than his thought on global issues. To practice these, he develop his original design theory. The theory is based on his original geometry. And the geometry is not based on difficult mathematical formula. And we can learn the geometry by model making.This class aims at learning the practical design tool. By demonstrating and exercising model making participants are able to acquire the tool and to develop an idea that is free from any conventions and prejudices.
Advice
The class is a design and engineering class. I need all participants to remind that the class requires extra works and extra expense for your productions.
Class Schedule
spaceship earth- lecture: introduction on Fuller's rendition of our planet.
dymaxion map- lecture and small workshop on Fuller's invention in cartography
authagraph map- lecture and small workshop on the lecturer's invention in cartography
geopalette- lecture and small workshop on a world map archive utilizing AuthaGraph map
geopalette- presentation by participants on his/her world map production by using the geopalette
geodesic dome- lecture and small workshop on Fuller's invention in light weight dome structure
geocosmos- lecture and small workshop on lecturer's production, large digital glove using the latest geodesic dome
fulleren- lecture and small workshop on a discovery in polymer physics
tensegrity- lecture and small workshop on Fuller's invention in the lightest structure
tensegrity modeling manual- workshop: construction of tensegrity's structural model
geoscope- lecture and small workshop on lecturer's production, display furniture for a museum by using tensegrity.
octet truss- lecture and small workshop on Fuller's invention in space frame structure system
HP membrane truss- lecture and small workshop on lecturer's design proposal using new octet truss, HP membrane truss
tetruss- lecture and small workshop on lecturer's production using new octet truss, tetruss